How to Stay Centered as a Business Owner When Your Schedule Changes
It's that time of year again.
School is starting, responsibilities are growing, and your schedule is probably changing a bit, especially if you have kids.
You might be stressed out, and perhaps you are wondering how can you beat stress while trying to operate your small business?
The short answer to this question is: By prioritizing your time and getting help when you need it. If you're interested in learning more tips on how to transition into this new time of year with as little stress and as much ease as possible, keep reading…
If you're like most small business owners, you're probably no stranger to stress. So how can you beat stress and keep yourself and your business healthy? Here are a few tips:
Get organized

– One of the best ways to reduce stress is to get better organized. This means creating systems and routines that will help you get things done more efficiently.

Plan in advance as much as possible

– If you have the time, start prepping for big events well before they are set to take place. Take

Black Friday

for example. For small businesses, Black Friday is arguably the most important day of the year. We recommend you start prepping those Christmas holiday deals now so you can get the most bang for your buck once November comes around.

Understand what is causing your stress

– The first step to beating stress is understanding what is causing it. Is it a specific situation, such as an upcoming deadline? Or is it a more general feeling of being overwhelmed by everything you have to do? Once you know what is causing your stress, you can start to develop a plan to deal with it and prioritize everything you have to do from most to least important.

Delegate and build a support network

– Trying to do everything yourself is a recipe for burnout. Learn to delegate tasks to employees, contractors, or virtual assistants. And don't be afraid to ask for help from family and friends when you need it.

Take some time for yourself

– It's important to remember that

you can't pour from an empty cup

. If you're running on empty, you're not going to be able to give your best to your business, your life, your family, or yourself. Make sure to schedule some time for yourself every day, even if it's just a few minutes.
Here's a little example of how I schedule my week to help maximize my time and be more efficient. These are the things I do:
1. As you can see my calendar is color-coded so that I'm aware of when I need to shift my mind to attack that task.
2. At the beginning of the week, I block off any unused time, so that I don't get a pop-up meeting that I'm not fully prepared to take.
3. I make sure to schedule family time (seen in pink). This is especially important to me because I don't want work to get in the way of me being with my family.
4. Lastly, I use focus time in google calendar. This blocks my calendar but will let someone know that I'm on focus time if they try to book a meeting. I like this feature because it shows that I'm working as opposed to just not being available.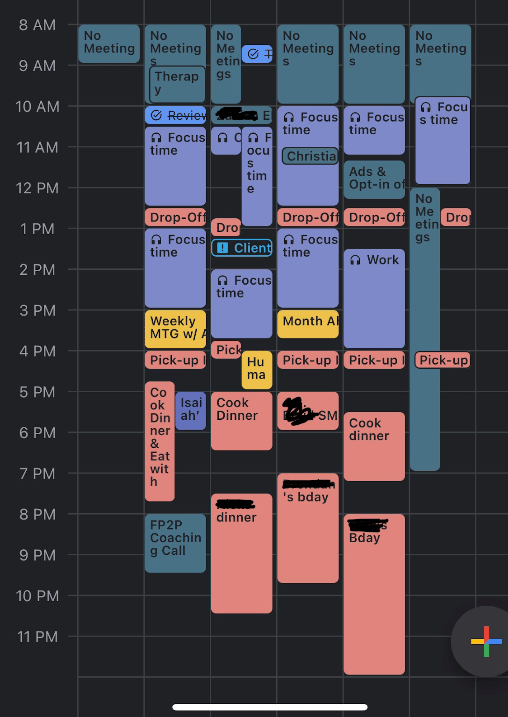 While these tips can certainly help, you may be thinking… "I don't have time to do any of this!" And that's OK. We are here for you.
Christian Taylor, CEO of Christian Taylor Marketing, is holding FREE office hours where you can meet with her and have a consultation about marketing, small business strategy, and anything else related to digital marketing.
Details:
What: Office Hours with CTM
When: 8/18 from 12-2 PM EST
Where: TGS (The Gathering Spot)
384 Northyards Blvd NW, Atlanta, GA 30313
Other Info: These office hours are open to anyone who is a member of TGS, and don't forget, the consultation is 100% FREE.
The team at CTM has the experience and know-how that small business owners who want to grow their business need to know. We dedicate our time to keeping up with market trends, and we are here to serve you and help you accomplish your business goals.
So if you have any questions about how to manage stress, ask for help, and take your business to the next level, schedule a free consultation (or visit TGS on 8/18 from 12-2) and let's talk about how we can collaborate!
We are here to help. If you can't make it to TGS this Thursday, just schedule a free strategy session today and we will show you everything you need to know!
Thanks for reading!
Talk soon,
Christian Taylor Marketing