What is Creator Pay and How Can You Earn it By Posting on Instagram?!
So… you've heard about other people making money on Instagram, but you have no idea how they do it. If you are at all curious about monetizing your IG and how to sign up for a creator account, keep reading!
What is an Instagram Creator Account?
An Instagram creator is similar to a business account, but intended specifically for content creators. If you are a(n):
Influencer
Public Figure
Content Creator
Artist
Musician
or someone who wants to monetize your brand…
We definitely recommend you switch to a creator account! Creator accounts will give you access to features that other accounts don't have, such as in-depth analytic reports and additional message options. If you sell or recommend products, a creator account allows you to publish posts that have products tagged so your audience can click and buy in one simple step.
You've Decided a Creator Account is Right for You… Now What?
One of the best ways to earn money on Instagram is by taking advantage of "Reels Play Bonuses". Creators have the opportunity to make money based on the amount of plays their Reel gets. All you have to do is share Reels to Facebook and Instagram. Instagram will pay out on Reels that get at least 1,000 views over a 30-day period.
How Do Reels Play Bonuses Work?
First of all, you need to make sure your account is able to access this feature. As you probably know, IG rolls out updates slowly, so if you don't have the option to do this yet, you will soon!
Once the feature is available on your account, Instagram gives you 30 days to get started, which means you will have 30 days to earn the bonus. During the 30 day period you can choose as many Reels as you want to count toward your bonus payout. Once you have selected your reels, you will earn money based on their performance and keep track of those earnings by checking out the "Performance Report".
What does all of this mean? Whether or not you have access to the bonus program, you should start pumping out Reels NOW! Having several Reels on your page will help you earn more money when you decide to start the program. It's as simple as that!
A Final Note
If you don't want to change from a business account to a creator account, that's ok! You can monetize your IG without signing up for a creator account. Here are the main differences between the two: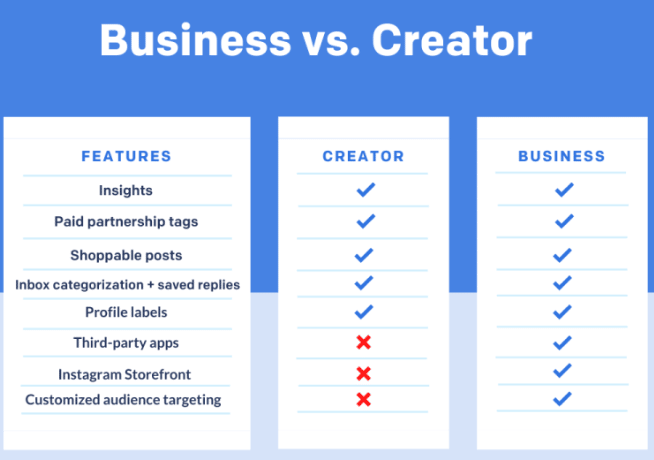 Image source: flick.tech
If you want to learn more about how to monetize your Instagram by signing up for a creator account and posting reels, we are here to help. Schedule a free strategy session today and we will show you everything you need to know!
Thanks for reading!
Talk soon,
Christian Taylor Marketing